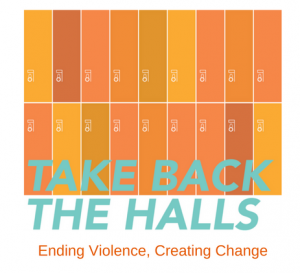 The Program 
Take Back the Halls, Taking Back Our Lives signature program, is a teen dating violence prevention and community activism program designed to prevent relationship violence among teens and develop young people's leadership skills. Take Back the Halls gives teens the opportunity to examine issues such as domestic violence, sexual assault, sexual harassment and sexual abuse, as well as the variety of social structures that support violence in our culture.  We create space for students to talk about issues affecting their lives, to generate ways to raise public awareness, to speak out against violence, and to advocate for change in their schools and communities. In short, Take Back the Halls aims to empower teens to become community leaders and active participants in the movement to end violence.
The Need
Existing research indicates that dating violence among teens is widespread, suggesting that physical aggression occurs in one of three teen's dating relationships.  Studies on sexual victimization among high school students indicate that between 15 and 20% of high school females report forced sexual activity.  At the local level, Take Back the Halls (TBTH) student surveys found 12% of students reporting physical violence in a dating relationship and 20% verbal violence.  This demonstrates a compelling need for attention to relationship violence among youth in Illinois.   Yet students and teachers repeatedly report to TBTH that they do not have the knowledge or resources to address this issue.
Program Structure 
TBTH offers a package of resources that include direct prevention and intervention programming to students and training and technical assistance to teachers, coaches, and administration.  Together this allows schools to create and implement comprehensive responses to dating violence that center youth voice and leadership.
TBTH believes that a 3-pronged comprehensive approach will maximize available resources, ensure sustainability, build youth voice, leadership, and civic engagement, as well as improve school climates.  Our comprehensive model aims to impact individual students and overall school culture through:
Providing dating violence prevention and intervention services directly to students

Engaging teachers in creating student led civics and service-learning projects that focus on creating comprehensive school wide responses to dating violence

Providing training and technical assistance to school administrators on best practice responses to dating violence incidents
Our Community
We are committed to bringing TBTH to a broad range of schools throughout the Chicago community, with an emphasis on serving populations that have traditionally been marginalized.